Today's Top Real Estate News
Provided by RISMedia News
5/25/2016 10:39:07 PM
Owning in Retirement: 3 Options for Senior Homeowners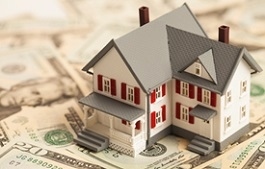 (BPT)—Research estimates more than 50 percent of households lack enough retirement funds to maintain their pre-retirement standard of living—even if they work until 65.

The good news? If you're a homeowner, you have options:

Reverse Mortgage – A reverse mortgage is a loan that homeowners aged 62 or older can use to convert part of the equity in their home into a usable asset, without giving up title or ownership of the house.

"The reverse mortgage option should be viewed as a method for responsible retirees to create liquidity from an otherwise illiquid asset," says Wade Pfau, professor at The American College.

Reverse mortgages require no monthly payment and do not have to be paid off until the last borrower permanently leaves the home. You have the option of taking the loan proceeds as a lump sum, a fixed monthly or tenured payment, or as a line of credit.

Reverse mortgages also feature a non-recourse provision that protects you from ever owing the lender more than the value of your home, even if the house is "underwater" when you are ready to sell.

You are still responsible for paying your property taxes, homeowner's insurance and upkeep expenses, or risk the loan being called due and payable.

Home Equity Line of Credit (HELOC) – A HELOC establishes a line of credit based on a percentage of the value of your home. You can access this credit during a predetermined amount of time called a "draw period," usually 10 years. During the draw period, you can borrow up to the designated amount while making monthly interest payments, and, if you choose to pay back on the principal, you can draw out again, much like a credit card.

After the draw period, you are responsible for repaying the principal and interest either immediately or over a set period of time, depending on the terms of the loan. You should be aware that if your home value depreciates, or if your financial circumstances change, the lender has the right to freeze your credit or even cancel your loan.

Cash-Out Refinancing – Cash-out refinancing allows you to refinance an existing home loan—hopefully at a lower interest rate—and also refinance the home for a dollar value higher than the remaining principal. This loan allows you to keep the money above the principal as liquid cash that can be used to pay down other expenses or fund your retirement.

Like your original forward mortgage, if you miss a monthly payment due to unanticipated expenses from a health care emergency or other life disruption, your loan could be called due and payable, and the lender could move to foreclose on your property.

While all three plans have their benefits, new consumer safeguards for reverse mortgages are fueling their popularity among seniors who want the benefit of no monthly payment, a loan that can't be canceled or reset, and the option of a line of credit that increases over time.

Source: ReverseMortgage.org

Published with permission from RISMedia.
Lawn Care Tips That Lessen Your Carbon Footprint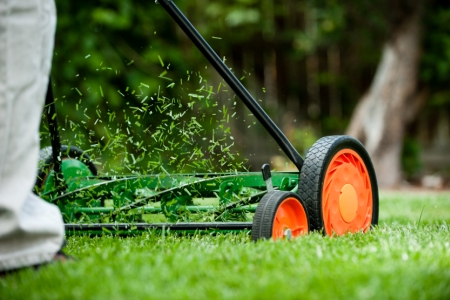 Did you know the average gas-powered lawn mower emits over four tons of carbon and other pollutants each year?

That's according to MowGreen, a carbon neutral company focused on sustainable lawn care. That four tons of carbon, MowGreen founder Dan Delventhal says, is equivalent to the emissions of a car driven 10,000 miles!

Delventhal recommends nixing the gas-guzzling machine in favor of a push mower, which not only lessens the user's carbon footprint, but has health benefits, as well. Every 1,000 acres mowed without gas-powered equipment offsets four million auto mile-equivalent emissions, Delventhal says.

Aside from the switch to a push mower, homeowners may also want to overhaul their lawn care program, particularly weed control.

Corn gluten, Delventhal explains, is effective for weed control, but must be managed with proper timing. It is reputed to be 90 percent effective for weed control when applied in spring, fall and spring again. It suppresses new weed growth in spring and fall by desiccation, shunting new seed germination, as well as through a protein-type reaction that inhibits the growth of broad-leaf weeds.

Corn gluten is also a nitrogen fertilizer, and, when combined with weed control application, can replace fertilizing entirely, says Delventhal.

Use certified non-GMO, organic corn gluten, if available. Delventhal's own corn gluten costs $75 for a 50-pound bag, which covers about 2,500 square feet. The price comes down as the quantity increases.

Want to learn more? Visit MowGreen.us for tips.

Published with permission from RISMedia.
Know Your Power Options When Hurricanes Hit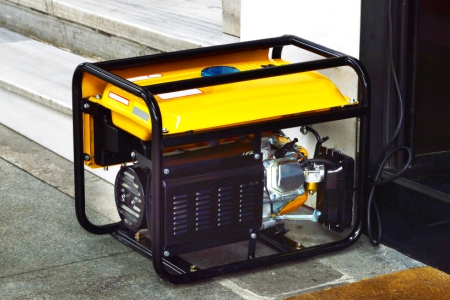 June 1 to November 30 is high time for hurricanes in many coastal regions. Stay ahead of whatever the season may bring by preparing your household with a communication plan and emergency kit, as well as assessing your home's power needs.

"Being prepared going into hurricane season is the best way to stay safe and comfortable should a storm of any size result in a power outage," says Dan Roche of Briggs & Stratton. "Having backup power is one way homeowners can comfortably ride out the effects of that storm from the comforts of home until utility crews can restore electricity."

Two backup power options— portable generators and standby generator systems—prevent power interruption to a home.

These two types of generators help in different ways. Portable generators are ideal for those needing to power select appliances during an outage, or those who anticipate needing to power tools to clear away storm debris. Some portable generators can even be attached to a transfer switch coupled with step-by-step startup, shutdown and storage instructions.

Portable generators, however, present risk of carbon monoxide poisoning. As such, they must be used appropriately at all times. For safety tips, visit www.TakeYourGeneratorOutside.com.

Standby generators, on the other hand, are permanently installed outside the home and automatically keep the power on when the primary power source goes out. Fueled by propane or natural gas, standbys run appliances like air conditioners, refrigerators, washers and dryers.

Standby generators require a professional install, so be sure to call a technician well in advance of a storm if you're planning to use one.

Source: Briggs & Stratton Corporation

Published with permission from RISMedia.
Curb Appeal: Tips to Polish Up Paint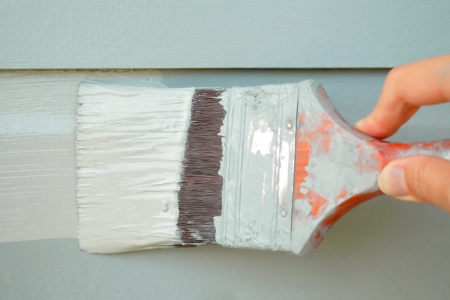 In life and in real estate, first impressions matter. Before placing your home on the market, it's worth taking a look at the paint on the outside, which may have been impacted by elements from the past winter.

"If you've been huddled inside for the past few months, you may not be aware of the price your exterior paint has paid keeping winter weather at bay," says Debbie Zimmer, paint and color expert with the paint Quality Institute. "Freeze-thaw cycles, rain, sleet and snow can cause paint to fail quickly, especially if you didn't use top-quality paint to begin with."

Zimmer suggests starting by inspecting for flaking or peeling paint on the exterior siding and trim. If the compromised paint is confined to a small area, a touch-up may be all that's needed.

Begin any touch-up project by scraping off loose paint, then sanding the edges smooth, Zimmer explains. Next, prime any areas where bare wood is visible, and then apply a coat of leftover paint.

If the paint damage is beyond touch-up repair, Zimmer advises re-painting the home sooner rather than later.

"Assuming that you're a do-it-yourself painter, you'll find it much more comfortable to do your surface preparation and painting now, when the weather is mild," Zimmer says. "Your paint may even last longer if you act quickly. Exterior paints tend to 'cure' better in moderate temperatures, which enables them to form an especially durable paint film."

It's doubly important to act fast if you plan to hire a painter, Zimmer adds. Professionals tend to book up this time of year.

No matter which route you choose, don't skimp on the product—it will make all the difference.

"A top-quality 100-percent acrylic latex paint will provide the best-looking and longest-lasting results, no matter where it is used," Zimmer says.

Source: Paint Quality Institute

Published with permission from RISMedia.
6 Sought-After Bath Updates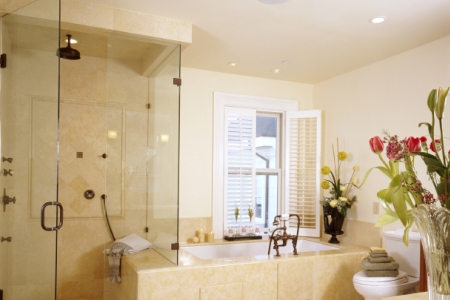 Next to a newly-updated kitchen, a renovated bathroom is a top priority for today's homebuyers—and homeowners.

Get in on these seven sought-after features:

Beadboard or Deep Tile – A deep tile or beadboard backsplash, sometimes known as "bathroom wainscot," lends a sense of elegance to any style bath. These practical backsplashes are easy-to-clean, too!

Double Sinks – If you've ever had to jockey for position, you know how useful double sinks can be—especially in the master bath.

Extras – Go for gadgetry like built-in audio systems or shower seating, or heated floors and towel bars. Kohler's DTV shower, which relays water pressure and temperature controls on an LCD screen, is a favorite.

Oversized – When it comes to bathing, bigger seems to be better. Large walk-in showers, oversized bathtubs and rain shower heads are some of the most popular features.

No-Fuss Toilet –Classic toilet models are much more often preferred to today's high-tech alternatives—but steer clear of European models!

White – A white (or neutral) color palette reads "clean," which is essential in bathrooms. White or neutral walls, tile and cabinetry are also an ideal backdrop for other, personalized items, like accents and linens.

Published with permission from RISMedia.
Giving Junior an Allowance? Tips to Consider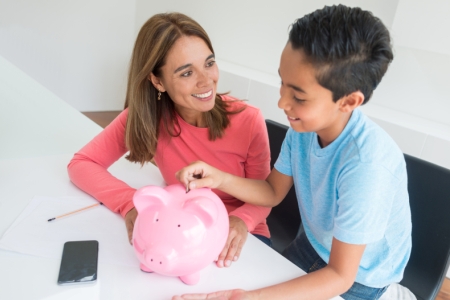 They work hard for their money!

Most children receive an allowance from their parents—and to earn it, they're spending an average of six hours each week doing chores, according to a recently released survey by the American Institute of CPAs (AICPA). The going rate? $4.43 an hour, on average.

"Providing children with a regular allowance gives parents a perfect opportunity to have a discussion about the basics of saving, spending and budgeting," says Gregory Anton, chair of the AICPA's National CPA Financial Literacy Commission. "Parents should talk to their children about financial responsibility and the value of money on a regular basis—this should not be a one-time conversation. Instilling basic financial literacy in children when they are young will better prepare them for the financial decisions they make as young adults and serve them throughout their lives.

"One of the ways that parents can use allowance as a teaching tool is to encourage their children to save 10 percent on a weekly basis and match the savings if they do," Anton adds. "This simple, effective tool will better prepare them to contribute to a 401(k) account and take advantage of any matching offered by their employer."

Anton and the AICPA also advise opening an interest-bearing savings account for your child (or if he or she is older, an IRA), and allowing your child to independently set long-term savings goals.

Source: AICPA

Published with permission from RISMedia.
Mortgage Rates Linger Near Year Low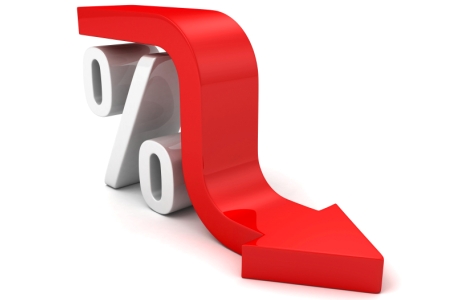 Mortgage rates remain around year-to-date lows, giving homebuyers and refinancers time to act ahead of a potential interest rate hike next month.

According to Freddie Mac's recently released Primary Mortgage Market Survey® (PMMS®), the 30-year fixed-rate mortgage (FRM) is up slightly, averaging 3.58 percent with an average 0.6 point. The 15-year FRM is holding steady at an average 2.81 percent with an average 0.5 point.

"The 10-year Treasury yield saw minimal movement over the past week, despite encouraging news from April's consumer spending and CPI data," says Sean Becketti, chief economist of Freddie Mac. "Accordingly, the 30-year mortgage rate moved up just 1 basis point from its 2016 low to 3.58 percent. Although there was minimal change in rates this week, the hawkish tone of Wednesday's Fed minutes release had an immediate impact on Treasury yields, and could possibly shake up next week's survey results."

The survey also revealed a somewhat-higher 5-year Treasury-indexed hybrid adjustable-rate mortgage (ARM), averaging 2.80 percent with an average 0.5 point.

Source: Freddie Mac

Published with permission from RISMedia.
Can Thrifty Security Measures Effectively Burglar-Proof Your Home?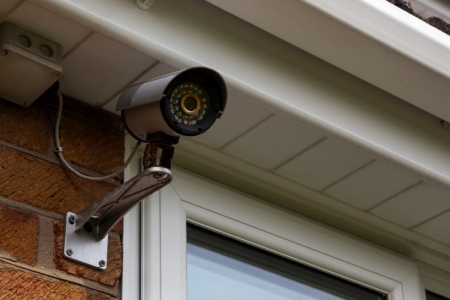 The answer is yes!

Homeowners incur several expenses each month. By taking a few low- or no-cost precautions, security doesn't have to be one of them:

• When preparing to travel, don't be too obvious with luggage. Load the car inside the garage, if possible, or load up quickly, at the very least. If you have a second car, leave it parked in the driveway.

• Don't announce your absence on social media.

• Keep window coverings in their normal, semi-open positions—just be sure nothing valuable is visible through the windows.

• Hide your valuables in a small, fireproof safe securely attached to the floor, the wall or another structure that can't be carried out of the house.

• Put lights, and even television sets, on timers, and place your mail and newspapers on hold, or ask the neighbors to pick them up.

• Consider replacing any short screws that typically come with lock hardware with longer ones that will extend past the door jambs into the frame of the house.

• Don't leave ladders or tools outside—criminals could "borrow" them to gain access to the home.

• Let your neighbors know you'll be gone, and for how long, or hire a house sitter. If your neighbor will be watching the home, ask him or her to walk around your property each day.

Beyond these measures, some law enforcement officials also recommend purchasing inexpensive security decals or signage, or even a fake security camera, to ward off burglars. Even a "Beware of Dog" sign can be a deterrent!

Published with permission from RISMedia.
Your Property: Avoiding Tree Care Cons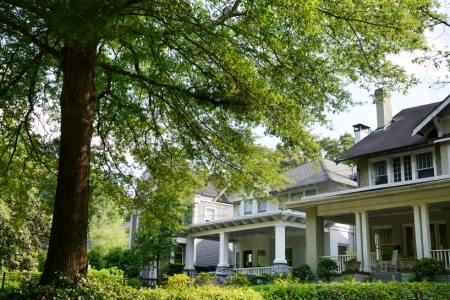 Healthy, mature trees can be a benefit to your home and property. Aside from their beauty, trees offer shade, helping to naturally regulate your home's indoor temperature, and may even absorb harmful gasses.

Caring for the trees on your property, according to the Tree Care Industry Association (TCIA), is best left to a professional. Because many home-related scams involve tree care companies, the Association recommends vetting out potential hires.

Knowledge is key. An arborist is defined by the Association as "a professional who cares for trees and other woody plants by pruning, fertilizing, monitoring for insects and diseases, and consulting on tree-related issues, and occasionally planting, transplanting and removing trees."

"With hundreds and possibly thousands of dollars at stake—not to mention the integrity and appearance of your property and your personal safety—make sure that you take your time in deciding which company you should hire," cautions Peter Gerstenberger, senior advisor for Safety, Standards & Compliance for the TCIA.

Gerstenberger advises first seeking out up-to-date proof of insurance from potential hires. If the company does not have insurance, you may be held responsible for any future claims.

"Disreputable companies are renowned for ripping gutters off, breaking fences and bird baths, and even dropping trees on houses. Then they typically fold up and leave, never to be seen again," Gertsenberger says.

Always, always get estimates in writing, as well as a second (or third) opinion and quote. Do not feel pressured by bogus "bargains" or pay-upfront schemes.

During the screening process, request local references. Don't hesitate to assess workmanship, and verify any professional affiliations the company claims to have. This may include the TCIA, Gertsenberger adds.

Bear in mind reputable tree care companies generally follow ANSI Standards. Confirm this information with potential hires before signing a contract. When you settle on a company, be sure the contract includes dates, cost and detailed descriptions of the work to be performed.

If you believe you've been victimized in a tree care scam, report the incident to your state's Attorney General's office, the Better Business Bureau (BBB) or the FBI, says Gertsenberger.

Source: TCIA

Published with permission from RISMedia.
Maintenance 101: A Structurally Sound Deck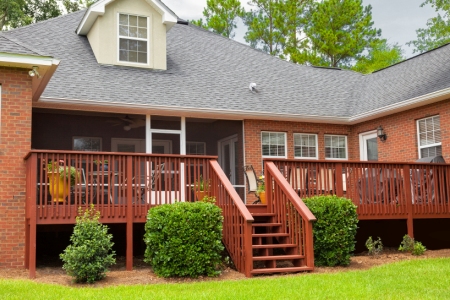 (BPT)—A deck isn't just a bonus for homeowners—it's sought after by homebuyers, too. In fact, at resale, a wood deck addition can recoup up to 75 percent of its cost, according to Remodeling magazine's annual Cost vs. Value Report.

For maximum return-on-investment, maintain your deck's structure with the long-term in mind, recommends the Softwood Lumber Board (www.woodnaturally.com).

To start, inspect your deck each year. Go underneath to make sure beams, boards, connectors, fasteners, joists, posts and railings are all stable, says David Finkenbinder, branch engineer with Simpson Strong-Tie, a structural connecting system manufacturer.

"The ledger connection is where the deck connects to the house," Finkenbinder explains. "It is one of the most common failure points on a poorly built deck. It's very important to use structural screws, rather than nails, to secure your deck ledger board to your home."

Like a house, a deck should support the weight it will need to carry. The deck should be load-tested, with structural connectors and fasteners spanning from the house to the posts in the ground.

Metal connectors, nails and screws can corrode over time due to the elements, weakening the deck's structure. Connectors with a zinc-galvanized coating and hot-dip-galvanized fasteners resist this corrosion. If you live along the coast or near a body of water, consider using stainless steel connectors and fasteners.

A licensed contractor or your local building authority can assess your deck to ensure it is up to code. You may also want to review the "DCA 6: - Prescriptive Residential Deck Construction Guide," a publication by the American Wood Council, at www.awc.org/codes-standards/publications/dca6.

Beyond those measures, the Softwood Lumber Board advises regular maintenance, and a cleaning and/or staining or sealing once a year.

If you have more questions regarding the structure or safety of your deck, consult a professional. He ors he can thoroughly inspect the structure, as well as recommend repairs and estimate costs, if needed.

Published with permission from RISMedia.