Today's Top Real Estate News
Provided by RISMedia News
7/27/2016 5:33:08 AM
Savings from Raised Homeowners Insurance Deductibles Vary by State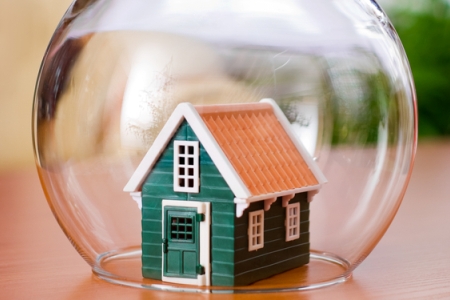 Raising the deductible on any type of insurance policy typically reduces the premium. Raising the deductible on a homeowners insurance policy, however, may not guarantee savings, according to a recently released study by insuranceQuotes.

Insurance policies—and opportunities to save on them—vary by state, the study reveals. In North Carolina, for example, policyholders reap a 16.4 percent savings when the deductible is raised from $500 to $1,000; in Texas, on the other hand, policyholders save just 1.8 percent for the same raise.

The states with the highest savings rates on a $500 to $1,000 deductible raise, based on the study's findings, are:

1. North Carolina (16.38 percent)
2. Rhode Island (14.02 percent)
3. Connecticut (12.23 percent)
4. Massachusetts (10.54 percent)
5. Nebraska (10.15 percent)
6. Pennsylvania (9.88 percent)
7. New York (9.85 percent)
8. Alabama (9.69 percent)
9. Iowa (9.52 percent)
10. Maine (9.40 percent)

"Choosing a higher deductible means you share more potential financial risk with an insurer and also makes you less likely to file a claim," says Laura Adams, senior insurance analyst for insuranceQuotes. "In return, insurers charge a lower premium.

"What you do with your home insurance deductible should depend on where you live," Adams says. "If there's no significant savings, it may not make financial sense to increase your deductible. Be sure to review your coverage every couple of years to make sure your policy and insurance provider is still right for you."

To learn the savings rate in your state, and rates for higher raises, visit insurancequotes.com/home/raising-homeowners-deductible-saves-money-071316.

Source: insuranceQuotes


Published with permission from RISMedia.
Does Your House Match National Construction Trends?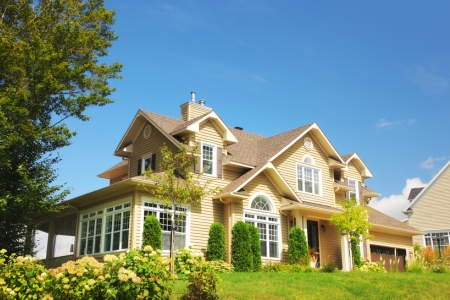 The U.S. Census Bureau recently unveiled the latest national annual data on the characteristics of new, privately-owned residences, gathered in the 2015 Survey of Construction (SOC). The SOC's statistics divulge trends in homebuilding, painting an insightful portrait of the American home today.

According to the SOC, the median size of a single-family house built last year is 2,467 square feet. Of the 648,000 single-family homes built last year:

• 600,000 have air conditioning
• 282,000 have at least four bedrooms
• 246,000 have at least three bathrooms
• 183,000 have a fiber-cement exterior
• 137,000 have an open foyer
• 122,000 have a patio and porch
• 66,000 have at most two bedrooms
• 25,000 have at most one and one-half bathrooms

The median size of a single-family house sold last year is 2,520 square feet, according to the SOC. Of the 501,000 single-family homes sold last year:

• 453,000 are detached homes
• 348,000 were paid for with conventional financing
• 327,000 have a two-car garage
• 278,000 have two stories
• 200,000 have one story
• 131,000 have at least a three-car garage
• 49,000 are attached homes
• 42,000 were VA-guaranteed
• 24,000 have at least three stories

The median sale price of a new single-family house sold last year was $296,400—the average sale price, conversely, was $360,600, per the SOC.

To learn how your home aligns with these trends, view the interactive graphic, "New Single-Family Homes in 2015," at www.census.gov/construction/chars/interactive/.


Published with permission from RISMedia.
5 Tips to Create a Multi-Tasking Home Office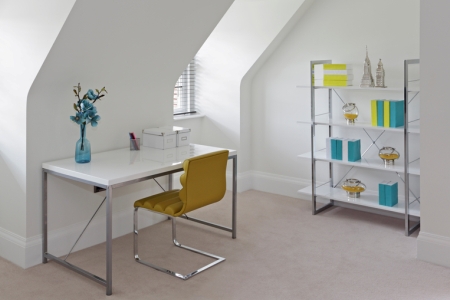 Did you know approximately 40 percent of employees telecommute to the office?

Remote work has made the home office a necessity for many of us, but without space to spare, dedicating an area for work can be difficult.

Enter the multi-tasking office—not only functional during working hours, but also practical for a range of activities, from entertaining to exercising.

To make a multi-tasking office in your home:

Use every square inch. Work with the room's existing layout—tuck a desk into an attic dormer, for example, or convert a closet into a workspace.

Divide the room visually. Cordon off work space with curtains, a folding screen or partition, concealing other areas of the room not in use while "at the office."

Look up. Make use of wall space for maximum storage. To stay organized while the room is not an office, install layered shelving on just one accent wall.

Go mobile. Attach locking coasters to the desk and other furniture; this will make moving pieces simple when it is time to repurpose the space.

Double up. Turn the space into a guest bedroom—take a break (or host clients) on a compact daybed that doubles as a sofa, or install a stowaway Murphy bed against the wall.

Source: Brandpoint


Published with permission from RISMedia.
What Are the Benefits of a Homeowners Association?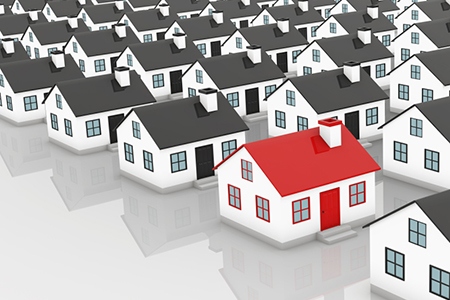 Homeowners in large-scale associations enjoy a number of association-managed services, many of which are beyond those offered by municipalities. The level at which these services are provided is just one of the benefits drawing homeowners to association living, according to a recently released survey by the Foundation for Community Association Research (FCAR).

FCAR's Large-Scale Association Survey, which evaluated associations with 1,000 or more lots (including residential, age-restricted and private club communities), found that large-scale associations offer high-caliber services, from roadway maintenance and stormwater management to recreation and security. In effect, large-scale associations act as governmental entities—an advantage for homeowners who would otherwise not receive services at the municipal level.

Large-scale associations also manage the environmental costs of development, as municipal organizations do, according to the survey's findings. Most associations impose land use restrictions that protect conservation areas, waterways and wetlands.

Civic involvement is prevalent in large-scale associations, as well, the survey found—residents may be invited to attend community-related forums, for instance, or cast an opinion at a polling location within the association.

Community associations, which include condominiums, cooperatives and planned communities, became commonplace by the late 1960s, and, according to a Community Associations Institute statement on the survey, "now represent the greatest extension of housing ownership since the New Deal housing reforms and GI Bill after World War II."

Source: Community Associations Institute (CAI)


Published with permission from RISMedia.
Snack Happy: 3 Tips to Eat Healthier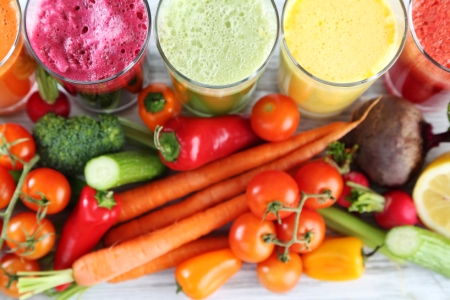 Too many of us attempting to consume a more healthy diet, feel better or lose weight have tried every regimen, with limited long-term success.

Consumer editors at Business Insider recently consulted with nutritionist Andy Bellatti to nail down the diet tips that work—and the ones that don't. Bellatti, a registered dietician, offered three simple tips to healthier eating:

1. Eat Real Food
Swap the powders, processed substitutes and supplements for fresh veggies, nuts and whole grain foods. These "powerhouse" foods, so named by the Centers for Disease Control (CDC), are not only chock full of vitamins and nutrients, but are also packed with fiber, which helps keep you full and satisfied until your next meal.

2. Look for Ingredients with Measurable Benefits
Most health guidelines are based on specific, measurable benefits—from drinking a certain amount of water each day (end goal: stay hydrated) to eating a specified amount of protein (end goal: maintain and build muscles).

While some standards depend on lifestyle factors like height, weight, gender, or amount of daily exercise, others—like eating calcium- and fiber-rich foods—apply to everyone. Stick to foods with measurable benefits and steer clear of fad products that promise to "cleanse your aura" or "give you glowing skin in 48 hours."

3. Look to Your Lifestyle Mentors
Instead of subscribing to a specific meal plan, or banishing certain foods from your diet altogether, take a lesson from the people you know who are living a healthy lifestyle. In most cases, the people in your life who are the healthiest are taking practical steps: choosing water over soda, eating very little fast food, and exercising regularly.


Published with permission from RISMedia.
Paint Project: Liven Up Your Landscape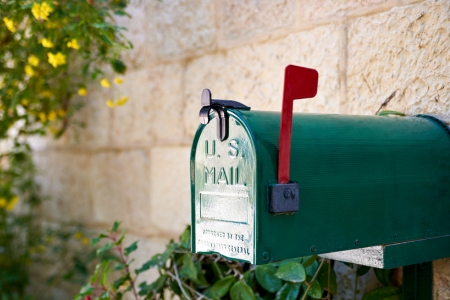 No plants needed!

One of the most cost-effective products to liven up your home's landscape is paint, says Debbie Zimmer, design expert with the Paint Quality Institute.

"Just focus on fun items like birdhouses, mailboxes and planters that can be colorfully painted in the comfort of your home, then moved outside later on," says Zimmer, who recommends approaching the project with coordination in mind. If the home's exterior is green, for example, paint items in related shades from the palette.

Don't discount creativity, Zimmer adds. Paint the mailbox with motifs that represent your hobbies, interests or personality, or paint patterns on planters to emphasize greenery. Visually interesting symbols and textures will add life to your landscape.

Zimmer also advises using 100-percent acrylic paint for the project, so that the finish withstands the elements long-term.

"Paints and coatings made with 100 percent acrylic are extremely durable, fade-resistance and flexible enough to expand and contract in extreme temperatures," Zimmer explains. "As a result, they can protect outdoor creations from the elements for many years to come."

Source: Paint Quality Institute


Published with permission from RISMedia.
What Makes a Homeowner Happy?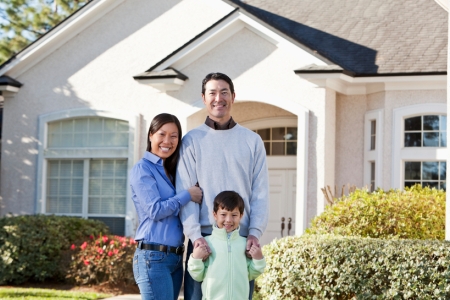 What makes a homeowner happy? A safe community? A short commute? What about walkability?

The answer is all of the above, according to HomeAdvisor.com's recently released Homeowner Happiness Index, an industry indicator ranking the happiest cities in the nation.

"A homeowner's quality of life is more likely to be dependent on their community and access to important attractions and services than it is on the number of bedrooms and bathrooms in their home," said Dr. Karen Ruskin, HomeAdvisor's happiness expert, in a statement.

Square footage is indeed less of a factor in determining a homeowner's happiness, the Index shows. Natural light, on the other hand, is an important consideration—naturally-lit homes tend to appear more spacious.

The Index also reveals a happiness trend among empty-nesters and married couples without children, who reported feeling satisfied more so than other homeowners.

"Empty-nester homeowners feel most connected with their neighborhoods and are most satisfied with the condition of their homes," Ruskin said. "They have likely settled in a community they enjoy and in which they plan to stay—and they generally have the most economic stability and time available to make their houses happy homes."

Homeowners in San Francisco, Los Angeles, Denver, St. Louis and Seattle are among the happiest, according to the Index.

"Our research shows that homeowners are happiest in urban cities with good weather, an active culture, arts scene and higher income levels," said Ruskin.

Homeowners outside of these areas don't have to capture happiness in a bottle to feel a higher sense of satisfaction. Simple improvements, such as outfitting the home for entertaining, can make a world of difference.

To find out where your city ranks on HomeAdvisor's Happiness Index, visit HomeAdvisor.com/survey.

Source: HomeAdvisor.com


Published with permission from RISMedia.
The Case for Siding with Brick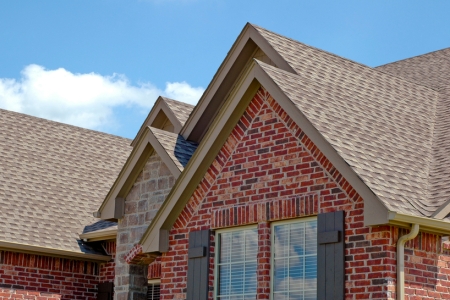 There are many benefits to building and owning a home with a brick exterior—many of which outweigh the cost.

"The initial cost of a brick home is quite competitive, especially since most homes require less exterior cladding than people think," said Ray Leonhard, president and CEO of the Brick Industry Association (BIA), in a statement. "An average 2,700-square-foot, two-story house only needs 2,265 square feet of cladding material when accounting for windows, doors, etc."

According to "The Installed Cost of Residential Siding," a report by the BIA comparing brick to other types of siding, brick wall cladding can cost up to 15 percent less than stone veneer, up to 8 percent more than vinyl siding, up to 6 percent more than fiber cement siding or wood shingles, and up to 3 percent more than stucco or wood siding.

In approximately 65 percent of the major housing areas assessed in the report, brick costs less than stone and wood siding—an important distinction for new-home builders in hot markets like Austin, Texas, Charlotte, N.C., and Denver, Colo.

Some brick manufacturers offer 100-year warranties—a testament to the durability of the material, Leonhard said. Brick is relatively low-maintenance, with no painting required, and boasts insulation properties that not only reduce energy consumption, but also reduce noise.

Brick homes are also better outfitted to guard against fire and wind, which can be a boon in disaster situations, Leonhard added.

To learn more about brick homes, visit GoBrick.com.

Source: Brick Industry Association (BIA)


Published with permission from RISMedia.
Are You Paying Too Much for Flood Insurance?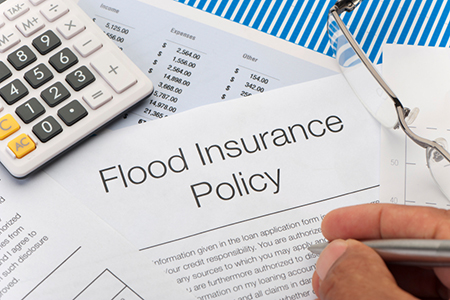 Property owners of both residential and commercial units purchased more than $3.5 billion in flood policies last year through the National Flood Insurance Program (NFIP). The reason? More lenders may be requiring flood insurance—and yours could ask for it, too.

Insuring your home against flood risk is important, but it is also important to understand its cost. One way to ensure cost-control is with an error-free elevation certificate, says Michael Allison, president of AmeriFlood Solutions, Inc.

The elevation certificate is a document that indicates the elevation of the property, which determines insurance premium rates. The certificate must be free of errors and omissions—either could potentially cost thousands in needless expense, Allison says.

"A signed and sealed elevation certificated does not ensure accuracy," Allison said in a statement. "More than 50 percent of the elevation certificates reviewed by our staff have errors. Further, outdated elevation certificates may not reflect building improvements or uncover documentation errors or omissions that can cause insurance agents, brokers and carriers to rate flood policies inaccurately. That can add up to a considerable difference in the amount paid for coverage or measures implemented to mitigate flood damage."

Allison recommends reviewing the elevation certificate with an insurance broker or agent or flood risk expert—they can help you determine if you are paying too much (or too little) for flood insurance.

Source: AmeriFlood Solutions, Inc.


Published with permission from RISMedia.
Unpacking Summer's Hottest Housing Trends – Pt. 3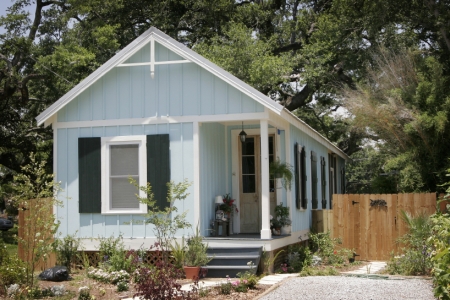 Household arrangements are adapting to the post-recession economy, with micro apartments, co-living and tiny homes defining trends this summer, according to ApartmentList.com. In Parts 1 and 2 of this series, we explored the first two of those trends; now, we'll conclude with the last: tiny homes.

Touted for their cost-effectiveness, efficiency and environmental-friendliness, tiny houses have gained popularity over the last few years, appealing to those who value experiences and people over space.

Per ApartmentList.com, buying (or building) a tiny house comes at a lesser cost than that of a full-sized home. Many tiny homebuyers and owners place their houses on wheels to comply with zoning regulations and ensure maximum mobility.

Parking spaces for a tiny house are scarce, but an RV park or tiny house eco-village are available in some areas.

The tiny house movement is not without controversy. Reports recently surfaced that the U.S. Department of Housing and Urban Development (HUD) plans to outlaw tiny houses, but a report by Snopes.com squashed them as rumors. (The HUD proposal only pertains to the classification of structures—even tiny houses—marketed as year-round residences, ensuring compliance with building codes and safety standards.)

According to the American Tiny House Association, tiny houses built on foundations should be constructed according to local codes. Mobile tiny house builders, on the other hand, should consult the Association's guidelines at AmericanTinyHouseAssociation.org.

For more summer housing trends, visit ApartmentList.com.


Published with permission from RISMedia.